Residential and Commercial Electrical Service and Repair in the Southeast, MI Area by Master Electricians
---
Serving Southeastern Michigan 24/7 for More Than 60 Years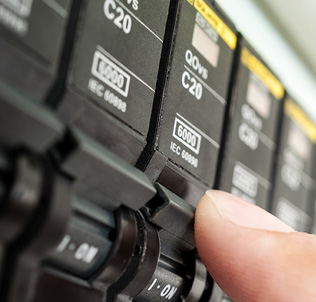 Electrical emergencies can happen at any time. Don't let your home's electrical system become its weakest link, preventing you from enjoying today's advancing technology.
If you are experiencing electrical problems or looking for upgraded electrical equipment, our electrical repair and installation professionals at Mastercraft are ready and waiting to help you 24 hours a day, seven days a week. Our electricians are licensed, bonded, and insured. This allows us to serve Plymouth, Canton, Farmington and the surrounding Michigan communities. We are proud to be your 24-hour electrician for all of your electrical emergencies and general electrical needs.
---
Call Us for Everyday Electrical Services!
Breaker repair and appliance installation aren't things you should have to handle alone. At Mastercraft, we handle any and all electrical services!
New Fixture Installation
Installing new wiring or fixtures can be scary and if you are at all uncomfortable, give us a call. We have the proper tools and knowledge to install ceiling fans, new lighting, new outlets, garage lighting, under cabinet lighting and more. When you want your fixtures installed quickly and correctly, call the qualified electricians at Mastercraft.
Rewiring
Rewiring your home is a big task. However, when done by a licensed electrician, it will be a faster and safer process. Whether you need more power to a certain room, need a service panel upgrade, or your entire home needs to be brought up to code, we can do it- and do it correctly.
The Mastercraft Team Can Handle the Most Complicated Installation Job
When planning a home expansion, having plenty of circuits is vital, and they must be in a precise location. Our electrical installation team can work with you to choose the best locations for optimal use.
A new home or renovation may require moving or adding circuits, moving or adding electrical outlets, and routing new wiring. We have an experienced team that is highly skilled in finding the best wiring routes for your home.
Electrical Upgrades by Experienced Electricians
Even an older home may require wiring adjustments or electrical upgrades. Correcting overloaded circuits, replacing outdated wiring, and upgrading fuses to breakers are not things you should try to tackle on your own. Our licensed electricians can save you time, money, and aggravation by diagnosing even the toughest electrical issues. Our professional repairs are performed correctly and safely the first time, getting your life back on track.
---
Call Mastercraft to Take Care of Your Electrical Needs!
For a free, no-obligation estimate, contact Mastercraft today. We're electricians, not salespeople! As a family-owned and operated company, you can feel confident in our service each and every time you need it most. Whether you need our help with a remodeling project or you are facing an electrical emergency, we're up to the task! Our professionals have the knowledge and expertise to ensure the safety and security of your home, identifying hidden wiring issues, electrocution and fire risks, and more that can put your home and family in danger. Schedule your free electrical safety inspection today!
---
Featured Products & Services
---
If you are looking for electrical service repair, maintenance, or installation services, contact Mastercraft Heating, Cooling, and Plumbing today!